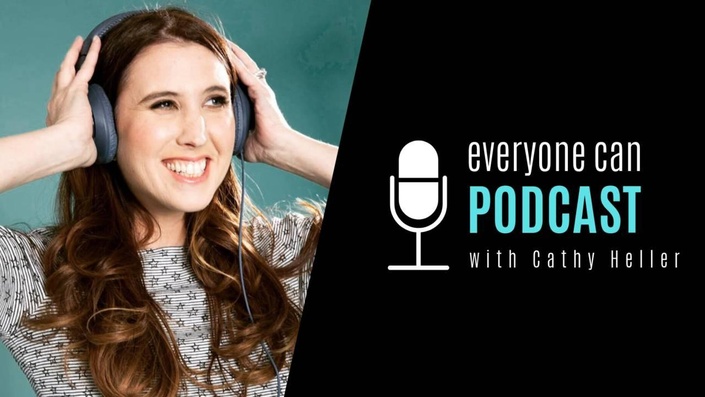 Everyone Can Podcast
Make the podcast of your dreams!
You have a message that someone else in this world needs to hear. You have something amazing to contribute. You're thirsty for more fulfillment and you'd like to grow your impact in a major way.
A podcast can do that for you.
Maybe you've dipped into the idea of a podcast before. But you looked online, read a few articles, watched some videos...and somehow...you're even more lost than when you started.
*Cue the excuses...
Where do I even start...this equipment seems really high tech...it looks kind of expensive…
There's too many podcasts out there anyways...

No one will want to listen to what I have to say…
I totally relate to you. In late 2016, I heard about podcasts. I thought it could be a cool way to get my message out and inspire people all over the world to change their lives by turning their passion into a career. That was the "best case scenario."
But deep down, I really had no clue what the first step was. I wasn't super confident that anyone would want to listen.
But I went with my gut. I did it…
And that best case scenario has come true.
I'm here to make that possible for you too.
You've come to the right place. I have helped countless people find more success and fulfillment in their work and I'm here to help you do the same through your very own podcast. Whether you already started your podcast or you haven't yet begun, if you want to make a bigger splash in this world and make an amazing living doing it - I will get you there.

Truth bomb: You are so much closer than you think. You just need some strategy and you will really take off!
---
Hello! I'm Cathy Heller, and I help creatives all over the world make a living doing what they love while making the world a more beautiful place.
I host one of the top rated podcasts called Don't Keep Your Day Job. It's been an amazing journey, and this is only the beginning. We debuted at #2 on Apple's business charts. Apple rated it the #1 show to listen to for 2018, with Oprah's show being #2. I interview mega successful creatives like The Office actress Jenna Fischer, makeup artist Bobbi Brown, designer Jonathan Adler, blogger Seth Godin, author Gretchen Rubin and many more. We had over 2 million downloads in the first 16 months. Huffington Post and Inc Magazine have written about this little show that has become something huge.
I'm on a mission to start a movement of incredible human beings who are chasing their dreams by sharing their voice, crafting the next chapter of their life to have inspiring stories like mine, and paving the road for other people to follow in their footsteps.

This isn't luck. This isn't brain surgery. This is radical empathy and strategy. People all crave the same thing. We want to feel seen. We want someone to just acknowledge, "I see you. I get you. I will help you." I want to show you how to make a podcast and how to find the people who need to hear your message. You will get results you can't even imagine. This is just the beginning.
---
I get it. Starting and sustaining a podcast isn't something that happens by waving a magic wand. Creating content consistently is only 20% of the work. The other 80% is making it grow. On top of that there's other challenges. Comparison. Overwhelm. But we are talking about finding a greater sense of purpose in your life. Offering YOUR voice to the world during this one life you have. The stakes are really high.
---
Because you know what happens when you finally give your uniqueness to the world?
You wake up every morning EXCITED to serve and impact the lives of people every day.
You reap the financial benefits of working in your zone of genius and doing what you love while inspiring others AND making some extra income. Cha-ching!
You devote more time to yourself now that you're not STRESSING about the bills and all those terrible meetings in your 9 to 5.
---
Imagine being able to say "I have a podcast" in just a few months. Then imagine how many people it could reach and impact. And imagine where you life could be in just one year from now!
---
SAY HELLO TO….EVERYONE CAN PODCAST!
A lifetime access online course that will take you through the step-by-step process of creating a successful podcast around your passion.
---
"Cathy, you are my mentor, and you didn't even know it! Your amazing show has helped shape my perspective and drive as well as introduced me to key people that would also become virtual mentors. And keeping it real, your episode and cheat sheet on how to start a podcast was a game changer... I started my own weekly podcast! THANK YOU!" - Eliza
---
WHAT YOU'LL LEARN...
Craft a Show Idea. Alignment is the new hustle. It's important to move forward with a idea that is congruent with what you love and who you are, but also what other people want to hear about.
Define, Find, and Build Your Audience. If you want your message to be heard and be impactful, you can't just create with blinders on. That's just a hobby. If you want to make a successful podcast, you have to consider which community you are serving and what content you can make that you both love. We will teach you how to add value to your content and get people excited to eat up and share what you have to provide!
Record Your Passion Podcast From Your Own Home. The beauty of being a podcaster is that you don't have to record at a fancy studio in order to be taken seriously. You don't have to dress up - heck, you can record in your pajamas! Yes there is certain equipment and processes that you need to understand, but the happy reality is that it's totally possible to make your own DIY recording + editing studio. You don't need to be a technology wizard to make a professional-sounding podcast.
Launch Your Show with Momentum. The best time to get people excited and invested in your show is during the runway towards the launch of your first episode. But there are materials you need to prepare beforehand and a process to make sure your show is available and ready when subscribers flock to your show.
Get Discovered Through Marketing & Outreach. You can build it - but they won't just come. How will people find your show? You MUST share what you have created and identify what value your podcast provides to them. What is driving people to say, "I can NOT wait to hear the next episode!" This can be intimidating, but it's where the rubber meets the road. Create your outreach list, craft cold emails to the guests you want on your show - and GET A RESPONSE! - learn how to stand out, grow your network, and get the feedback you need to keep improving your show.
Assess Strategically. Do + do, then tweak + adjust. You don't want to keep making the same content if it isn't working. Define what success for your podcast means to you, and reconfigure your strategy if it's not leading towards that goal. Your audience is your most crucial asset to this. Ask them what they want, and experiment until you get down a formula so a) they are listening to the podcast that they need in their life, and b) you are passionate and fulfilled by the content you create.
Create Content Consistently. Consistency is key! Learn how to continuously push out fresh content, PLUS stay on track so you are uploading episodes on a regular basis, you don't keep your audience hanging, and you don't fall into the "podfade" stage after you launch your show.
Learn from the Experts. Learn straight from the mouth of the experts in live trainings on tech, content creation, audience building, outreach, marketing, and so much more.
---
"I gotta tell you, I've done a bunch of podcasts. But it's hard for me to think of an interviewer else who has worked harder to see me and to see my work than you have. And I think that's why you're so good at this." -Seth Godin, entrepreneur, blogger & bestselling author
---
WHAT YOU GET...
EIGHT course modules These modules are PACKED with video trainings, worksheets, checklists and more. There's no such thing as passive learning with this course. We're getting to WORK! And by the end of the program you'll have a simple, clear, actionable plan to keep your Podcast up and running. ($3000 value)
LIFETIME access to our private Facebook group Yep! A Facebook group for creating awesome creativity and accountability with fellow podcasters! You'll need the opportunity to connect to others in the same boat as you, ask questions, start conversations, and maybe even VENT! (just a little). The KEY to this journey is having folks by your side. Make sure you join here ($500 value)
Live Mentorship Q&As Join Cathy and special guest experts in live chats. Ask your questions and learn the practices that helped them build their own podcast and business empires ($3000 value)
2x / Week Office Hour Calls Every week in these calls, you'll have a chance to ask your questions, solicit feedback, and dive deeper into your specific challenges. You'll also get the benefit of meeting + networking with Cathy, her team, and like-minded individuals and learning from their success as well. ($3000 value)
LIFETIME Access to Materials Your podcast is constantly evolving. Which means I'll be updating my program materials on the regular. You'll have access to all the materials, all the office hours, and all the updates - FOREVER! (Priceless)
TOTAL VALUE: $9,500
YOUR INVESTMENT: $997!!!! (or just SIX payments of $180 or 12 payments of $97)
---
"Cathy and this podcast inspired me to start a podcast of my own to create the same type of amazing community for teachers that we have here for creatives. Working toward this has made me realize the herculean effort it takes for Cathy to put together what she does week after week. So thank you, and shout out to everyone else here working hard to make their day job their Dream Job!" - Jonathan
---
ENROLLMENT CLOSES AUGUST 29TH at MIDNIGHT PST! Don't miss your chance!
Here's what happens after you hit that magical button!
You'll be taken to a page with THREE payment options
One payment of $997
6 payments of $180
12 payments of $97
You'll choose your adventure with any major credit card or Paypal to complete your enrollment.
PLUS...BONUS TIME!
If you enroll before Monday night August 27th at MIDNIGHT PST you will receive a FREE ticket to our Bonus LA Workshop ($499 value!!)
A once-in-a-lifetime opportunity to meet in person with Cathy, the team, successful creative entrepreneurs, and other amazing souls who are in this journey with you!
Two full days. Your chance to sit in on special masterclasses, pitch your idea, get feedback, network with incredible delightful people, and make relationships that could last a lifetime.
Right after you pay, you'll get a confirmation email with instructions on where to find our delicious online community and how to claim your ticket to the Workshop!
Office hours will occur each week

5 pm PST Mondays & 1:30 pm PST Thursdays
So let's get real...

I have been where you are. I have felt how alone and paralyzing it can be to know you have something more to say, something more to offer the world, but you just don't know how. I started the podcast for people like you...and let me be honest here, people like me.
And I am SO blessed to be able to do what I love. I have worked really hard and really smart, (and not so smart at times), to get here.
So I asked myself, how can I help all these aspiring podcasters around the world, all needing the same thing, achieve their best success? How can I help them find their voice, find the people who need to hear that voice, AND make a living doing what they love?
If the world was full of people all creating and serving others while also doing what they loved, how sweet would this world be? We need this sweetness.
We need your service and your gift. No one is you and that is your superpower.
THAT is why I have created this course. To help you realize your true gifts AND potentially make money doing it. Everyone can have this life.
And hey, there is a 30 Day Money back guarantee. We want you to be completely satisfied, but if you're not, show us that you've done the homework, and we will refund you.
Doors close August 29th at midnight PST!
You SOOO deserve to have this beautiful, rich life you want.
Take your seat at the table.
The time is NOW.
---
FAQS
Q: DO YOU OFFER REFUNDS?
Yes! You have 30 days from the date of purchase to request a refund. We want you to see results and we believe you need to do the work of course in order to see the results. SO, in order to receive a refund before the 30 day mark, you must show that you have completed all the work and write a statement to why the course is still not a fit for you.
Q: IS THIS RIGHT FOR ME IF….
I have a full time day job.
YES! It is up to you to make the time. You might have to cut out a TV show for a few weeks or wake up a little earlier. But you can do this. We always have the time for the things we make the time for!
I have a podcast already but it's not as successful as I want it to be
YES! All the better! Now you have something to work with. You just need to reassess and realign what you are doing to what people want from you. I will be shedding light on what you need to change and helping you make those changes each week.
Q: HOW DO I KNOW IF I'M STAYING ON TRACK?
This is totally a go-at-your-own-pace course. No grades, no passes / failures, no judgments! We have office hours twice a week to give you the chance to check in with our team on your questions and to keep you on track. We are big on accountability. It's important for you to gain momentum and stay there with our podcast besties who get it! It isn't a race, but we do want you to gain clarity to move forward in your podcast.
Q: WHAT IF I FALL BEHIND?
You're in luck, there is no "behind"! You are right where you need to be and if you need support, that's what the office hours and the private Facebook Group are for.
Q: HOW MUCH TIME DO I REALLY NEED TO DO THIS AND GET RESULTS?
I would set aside 2-3 hours a week to watch the videos and implement the homework. When you start recording and editing your episodes, plan for 3-4 hours a week. We understand you have other things taking up your time, but if you don't make building your podcast a priority, it will fall to the wayside.
Q: DO YOU OFFER PAYMENT PLANS?
Yes you can either pay in full, pay $180 over the 6 months, or make 12 payments of $97! Whatever floats your boat.
Q: HOW LONG DO I GET ACCESS TO THE COURSE?
It is lifetime access so don't worry! You get to revisit these chapters again and again, plus you are welcome to join office hours whenever you want for pretty much the rest of your life.
---
You weigh the options: use $997 to get away for the weekend?
Or use $997 to get the tools and instruction you need that could bring in the bucks for you to buy a get away for a nice long vacay? (I'm talking international tropical island somewhere.)
But like all good things, this deal WILL come to an end. And then these opportunities will be ABSOLUTELY gone.
So don't be late! You only until August 29th to snag the goods.
Your Instructor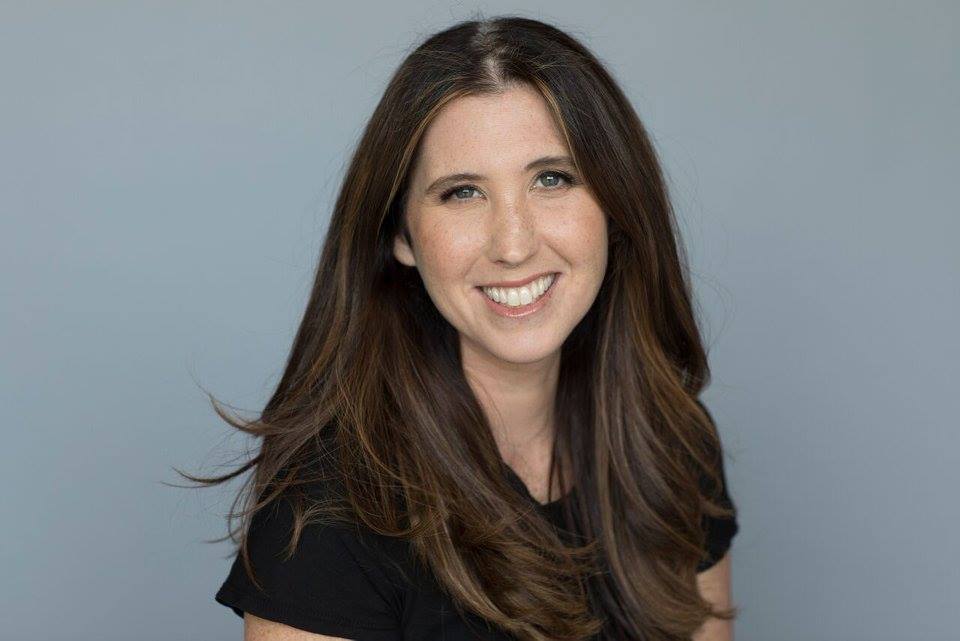 Cathy Heller is a fire hose of inspiration. She's the host of the popular podcast Don't Keep Your Day Job, which was given the #1 spot on iTunes recommend list of shows for the New Year in 2018 and 2019.
Each week Cathy encourages thousands and thousands of listeners to find more purpose in their life and get paid to do what they love full time. She started out as a singer songwriter and first found success licensing her music to TV, Film and Ads. Quickly she became a stand out in her field and was featured in magazines like Billboard, Variety and the LA Weekly.
After making a multi six figure living with her music, Cathy started a music agency and then she began teaching other artists to grow their own careers.
Two weeks after her third daughter was born, she started her top ranked podcast. Cathy's show has been featured in Forbes, Entrepreneur Magazine, HuffPost, and Inc Magazine's "top 9 podcasts" and has been downloaded 9 million times. She's been featured several times by Apple themselves and the fans are resonating with how genuine she is.
Throughout the show, she has interviewed creative entrepreneurs like actress Jenna Fischer, popular blogger Seth Godin, designer Jonathan Adler, make up artist Bobbi Brown, Starbucks CEO Howard Schultz, fitness expert Jillian Michaels, fashionista Tamara Mellon, novelist Emily Giffin, and Gretchen Rubin to name a few.
When she's not teaching or interviewing amazing guests for her podcast, you can find Cathy playing with her three little girls, writing her book, songwriting for tv shows and commercials, or enjoying a moment with friends.

Cathy often says "purpose is the opposite of depression" and she is truly lifting others to be the happiest version of themselves.
Course Curriculum
Welcome!
Available in days
days after you enroll
Section 1: Why & What
Available in days
days after you enroll
Section 2: Audience
Available in days
days after you enroll
Frequently Asked Questions
When does the course start and finish?
The course starts now and never ends! It is a completely self-paced online course - you decide when you start and when you finish.
How long do I have access to the course?
How does lifetime access sound? After enrolling, you have unlimited access to this course for as long as you like - across any and all devices you own.
What if I am unhappy with the course?
We would never want you to be unhappy! If you are unsatisfied with your purchase, contact us in the first 30 days and we will give you a full refund.