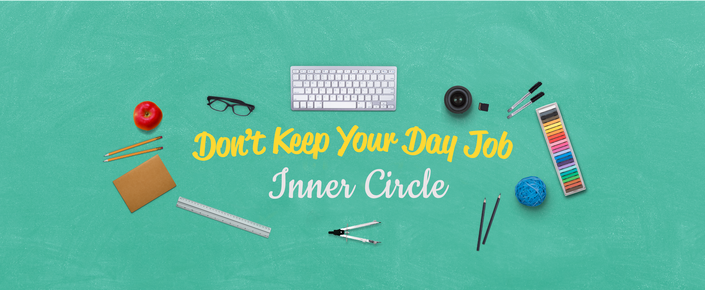 Don't Keep Your Day Job Inner Circle
The podcast membership club to transform inspiration into action!
Are you a creative person who wants to do good things in the world like making jewelry, writing books, teaching yoga, baking cakes, coaching, and making that soulful contribution?

Are you the kind of person who wants to add value to the world but hates the idea of sales or writing a business plan?
Are you tired of working on someone else's dream, but you don't see a way out of the 9 to 5?
Are you waiting for someone to tap you on the shoulder and give you that permission slip to follow the whisper inside of you?
Are you seeking clarity on the next step to turn your passion into a purposeful business?
Are you hitting a plateau on your side hustle, and you're unsure how you can elevate it into a full time career?
Are you an avid listener of the podcast, but you end each episode going, "Now what?"
Are you looking for a result?
Bottom line - You want a change. You're sick of procrastinating on your dream.

I'm here to help. I'm one of you. I get it.
Let's make that dream a reality. The time is now.
You need someone who will give you that extra nudge, that extra accountability, that extra love to give you that PUSH that will really help you set course towards finding your purpose and making money from that thing you truly love.
You need a group of like-minded people to blow wind in your sails, to give you honest but constructive feedback on your creative ideas (because whenever you tell your mom or your friends, they look at you with a big question mark written across their face). You need a community to remind you that you already have everything you need and you already have the permission to go for what you deserve.
If any of this makes you raise your hand and say, "This is me," then the Inner Circle is for you!
You've come to the right place. I have helped countless people find more success and fulfillment in their work and I'm here to help you do the same. Whether you already started your business or you haven't yet begun, if you want to make a bigger splash in this world and make an amazing living doing it - I will get you there.
Truth bomb: You are so much closer than you think. You just need some strategy and you will really take off!

This Inner Circle is a way for us to have a more intimate connection so I can support you even further in your journey. You have no idea how much I believe in you, how much I love you, and how much I want to see your color shine!

I know you listen to the podcast because you really want to create a life where you can wake up every single morning and feel excited about this thing that makes you unique, this thing that you want to add to the world. You want to claim ownership to this life, and fully believe that you deserve it.

All of this is so, so possible.

In the Inner Circle, we'll tease out the core concepts and strategies that show up in all the successful guests I've interviewed. I'll help you create a blueprint for you to integrate those tactics into your own business.

We're also diving deep into how you can strengthen your mindset and break through your own limiting beliefs - because it's a little known secret...

Only 10% of the work is the "how to do." The other 90% is "how to think."

This won't just impact your career, your income, your heart centered business - this can change your entire life.

What results will you get from this membership?

CLARITY on your next step
A SIDE HUSTLE that has grown out of your passions
A MEANINGFUL LIFE that will make you excited to wake up & ready to rip it open every single day
LIFELONG FRIENDSHIPS with mentors & peers who understand what it's like to have a voice that needs to be expressed, recognize the gifts inside of you, believe that you CAN make a full time living doing what you love, and cheer you on through this crazy adventure!
What's included in the Inner Circle?
Monthly Coaching Calls
I'll go live in the private Facebook Group once a month to answer your questions, help you navigate those roadblocks, and fuel you with the motivation to take the next step. We'll tease out the key takeaways from the podcast episodes, like how to brainstorm content, build your audience, make an offer, get paid to be you, and identify which strategy will harvest the most growth. Yes, we are covering it ALL!
Weekly Prompts + Worksheets
Each week we'll send you a prompt to turn the lessons & values from the podcast into actionable steps towards your business. (Don't worry, none of this is graded!) These will help you get those creative juices flowing and break you out of the analysis paralysis. All that wisdom & inspiration you're hearing every week will flow into your earbuds and get streamlined straight into a manifested idea & a tangible result!
Private Facebook Community
You'll have access to our private Facebook Group, where we will announce the monthly coaching calls and Q&As, post the replays, plus you'll be in a community with loving, like-minded entrepreneurs and creators who are there to encourage you and help you grow!
VIP Discounts & Access
We're always rolling out new products, courses, events - and when we do, you'll get special discounts on these offers!
What areas will we work on?
BUSINESS
We'll identify where you should focus your interests and strengths, direct your energy and define what you should get busy creating, brainstorm your unique offering and start testing it, and connect with a tribe who need what you have to give. It's all about that radical empathy!
Plus you'll learn how the strategies to streamline your content into a paid offering, and how to use words effectively so you can take your mess and turn it into a message that captivates your audience.
PURPOSE
We will tease out what's at the core of your ikigai (that sweet intersection of what you're good at, what you love, and what the world will pay you for) and shine a light on what is really possible in your path, and what that next step is on your journey.
LIFE
Unblock those self sabotaging beliefs around money, worth, and the life you think you deserve. You will get that permission to take action and dream big
What people are saying...
"If you're thinking of starting a business, if you want to scale your current business up, or if you like inspiring stories featuring incredible business owners who built their businesses using the resources they had available... then you need Cathy Heller in your life. Go find her podcast 'Don't Keep Your Day Job.' Thank you Cathy, for inviting me into your home, and for teaching me all the things! I feel so much more confident that I have the tools I need to make my business a success!" - Holly Jones, Designer

"I have been witness to the magic that Cathy Heller generates in online coaching sessions right before my eyes. I don't know how she does it, but her ability to penetrate into the very essence of each person she speaks to is awe inspiring. She is a truly gifted communicator because she just gets people. Early in the spring I was in the hot seat with Cathy on a coaching call that blew my mind with a vision she had for me to expand my Elder and Wiser podcast to include writing articles and creating social meetups. I am here to tell you that I have been working hard to move down that road and here is my BIG WIN: I GOT PUBLISHED!!!! I am a writer!" - Betsy Heeney, writer / host of Elder & Wiser Podcast

"Not only is Cathy a genius at 'Big Picture' business ideas, but her ability to help create a community out of a dozen or so women participants is fabulous! I feel a renewed sense of purpose and motivation for my business after spending 2 days with all these wonderful women. The tools we learned (both business and mindset) have given me a lot to think about and implement in my business." - Heather Challberg, Jewelry Maker
FAQs
Q: How much will the Inner Circle membership cost?
A: It will be $30 per month for 6 months - BUT! if you preordered my book you get ONE MONTH FREE :)
This is what you get with the membership:
Monthly coaching calls + Q&As with me
Weekly prompts + assignments to help you turn the lessons & values from the podcast into actionable steps towards expanding your business
Access to an exclusive Facebook group
VIP offers & discounts on future programs and products
Q: Where will the live calls take place?
A: They will be in the private Facebook Group. Dates & times will be announced at the beginning of the month. We'll post the video and send out the replay, so if you can't make it live - we got you covered!
Q: Can I cancel my subscription and get a refund?
A: You can cancel within 14 days of payment and we'll send you a refund.
Q: Will I be able to rejoin in a later month?
A: Yes! (?) The cart will reopen during the first week of each month, so make sure you mark your calendar!
Your Instructor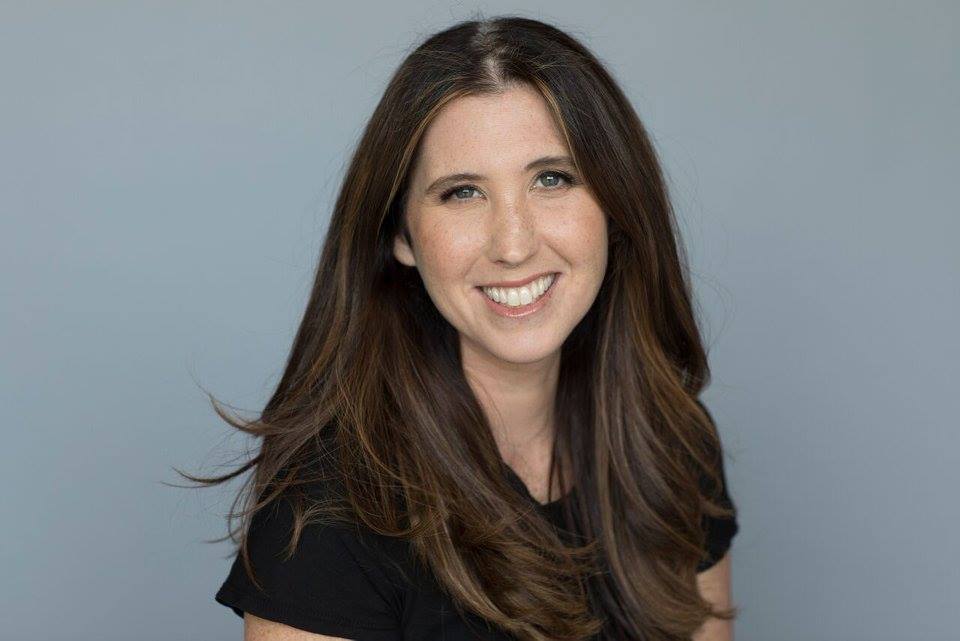 Cathy Heller is a fire hose of inspiration. She's the host of the popular podcast Don't Keep Your Day Job, which was given the #1 spot on iTunes recommend list of shows for the New Year in 2018 and 2019.
Each week Cathy encourages thousands and thousands of listeners to find more purpose in their life and get paid to do what they love full time. She started out as a singer songwriter and first found success licensing her music to TV, Film and Ads. Quickly she became a stand out in her field and was featured in magazines like Billboard, Variety and the LA Weekly.
After making a multi six figure living with her music, Cathy started a music agency and then she began teaching other artists to grow their own careers.
Two weeks after her third daughter was born, she started her top ranked podcast. Cathy's show has been featured in Forbes, Entrepreneur Magazine, HuffPost, and Inc Magazine's "top 9 podcasts" and has been downloaded 9 million times. She's been featured several times by Apple themselves and the fans are resonating with how genuine she is.
Throughout the show, she has interviewed creative entrepreneurs like actress Jenna Fischer, popular blogger Seth Godin, designer Jonathan Adler, make up artist Bobbi Brown, Starbucks CEO Howard Schultz, fitness expert Jillian Michaels, fashionista Tamara Mellon, novelist Emily Giffin, and Gretchen Rubin to name a few.
When she's not teaching or interviewing amazing guests for her podcast, you can find Cathy playing with her three little girls, writing her book, songwriting for tv shows and commercials, or enjoying a moment with friends.

Cathy often says "purpose is the opposite of depression" and she is truly lifting others to be the happiest version of themselves.